Magento 2 Migration Service
Complete Magento 1 to Magento 2 Migration Service
Magento 2 is the latest Magento version that does not just upgrade your online store but delivers a new level of success to your existing store and makes the customer experience, which is a key to success, better. New Magento 2 provides better security of a platform, faster page load, orders management system, and the ability to analyze customer relations to make your online store lead the ecommerce vanguard.
Magento 1 to 2 Migration Process
Frankly speaking, it is quite easy for the store owners to migrate the current Magento to the latest Magento version. However, the version upgrade should be done by the Magento experts as there is a risk to lose data concerning the products, customers, and your store, in general, during the Magento migration process.
We can offer you Magento migration services which will convert your custom design and all the information including customer data, categories, services, products, orders history, CMS pages, and other features and set up all these elements together in the new version of the ecommerce platform. The upgrade of your ecommerce store will be done by the certified Magento developers.
In addition to the excessive benefits of Magento 2 migration, you should note that the software support of migration Magento Commerce 1 has been stopped. This means that:
there will not be any additional security patches for Magento 1 store, so it is likely to be exposed to hacks;
your business will not be competitive with those using the latest version;
some payment systems no longer guarantee the support of existing integrations, such as Paypal.
Hence, you should definitely find a Magento migration partner and migrate to Magento 2.
Moving Magento Store to a Different Server
During the Magento upgrade, you will most likely have to change the hosting company of your online store from one to another, or maybe it will be needed to change the directory location of your platform. The Magento migration experts can help you to migrate your Magento 2 store to a new server efficiently, smoothly, and with zero downtime.
Migrate From Different eCommerce Platform to Magento
Migrating to Magento from other e commerce environments, particularly to the Magento 2 version, may be difficult as the process depends on the specific features of these platforms and connected extensions for customization, so it is never the same. Every platform has its own individual instruments and functionality. So, if you want a hassle-free transition from a current ecommerce platform to Magento along with all the required support, you should hire a team of professionals.
Certified Magento 2 Experts - Getting Your Store Upgraded
To manage the Magento upgrade, you need professional Magento developers who have expertise in migration processes. So it would be best if you looked for the companies that have Magento experts and certified developers as well as are experienced in the version upgrade. It will help if the company has an easy-to-reach support team. Also, you may ask them to provide you with their portfolio or search if they have other clients in your field.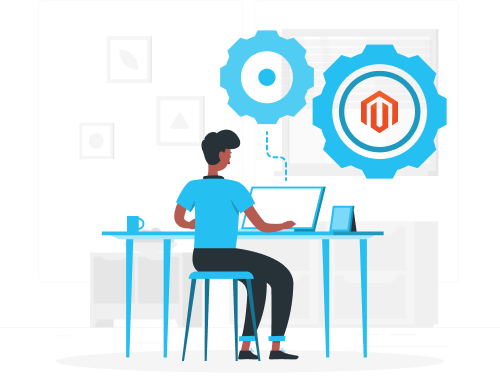 Magento 2 Leading Key Features Over Magento 1
Not sure whether you should migrate from Magento 1 to Magento 2?
Magento 2 is the latest version of Magento that was released in 2015 and, at the same time, one of the most popular platforms for ecommerce management in the world.
As was mentioned above, Magento 1 is not supported anymore, so it means that while the users of Magento 2 can get a substantial competitive advantage with the new functionality due to available extensions for customization, Magento 1 becomes an easy target for hackers and third party individuals.
With this being said, Magento upgrade service provides better customer satisfaction, boosts sales, and as a result, benefits business more than Magento 1.
Here is what Magento 2 offers over Magento 1:
Caching
GUI
MVC
Standards
Testing
Moveover, its popularity is based on its advantageous features that resolve a lot of business-related problems, including those encountered with Magento 1.
Magento 2 website pages will load faster than those of Magento 1 sites.
Magento 2 migration offers a better check-out algorithm than Magento 1. While the previous version of Magento has six stages of check-out, Magento 2 migration services provide a simple checkout with only two stages.
Magento 2 has the new Instant Purchase feature, which provides a simple check-in to the returning customers, along with a mobile friendly interface, and is highly likely to increase the sales.
The clients claim that the user interface of Magento 1 is significantly less user friendly than one of Magento 2.
Magento 2 also has a more smartphone-friendly interface, which will definitely be appreciated by the customers visiting online shops from mobile devices due to successful user experience.
There are a lot of Magento extensions available in the Magento store.
We offer Magento Development Services
We offer a Magento migration service and are ready to facilitate your Magento migration process. We have professional Magento experts and Magento certified developers who can provide you with reliable Magento migration services and at the same time, improve your experience of using Magento and your ecommerce platform managing the migration process.
Our Work
Magento migration service to upgrade your online store. With a wide experience of using Magneto and improving online stores, we will serve as a solution partner and assist you with moving your store from one ecommerce platform to Magento 2 and even help you to upgrade and maintain it.
Write Us
Do you want to get a reliable Magento migration service and a successful solution partner? Contact us now!