There are more than 90,000 TYPO3 professional developers all over the world who work constantly improving and extending the system possibilities. Impulsis is a part of this community, providing high-quality TYPO3 extensions development for our clients and contributing to TYPO3 growth. The TYPO3 open-source nature allows us to provide various TYPO3 extension development, including add-ons, plugins, and modules that can be used to extend core TYPO3 functionality and satisfy our clients' special requirements.
One of its main features is that they are customizable. That means if we work with TYPO3, we create a distinctive product with it, and be sure it meets all our client's requirements. It can be used for support services and integration of existing systems, like ERP, accounting, analytics, or others. TYPO3 can be used for the case when you run your first web site, or you already operate dozens of them. It could be an efficient tool for different types and sizes of business.
TYPO3 Development for the Website
Among our services, there are TYPO3 site and TYPO3 plugins development and their customization, creation of design, and templates (themes) integration using the Extbase framework and Fluid templating engine. Custom elements are developed to make content creation and adding processes easy, quick, and highly productive. We care about the functionality and optimization of modern and complex TYPO3 projects. Refreshment and update of the existing TYPO3 site are possible with us as well.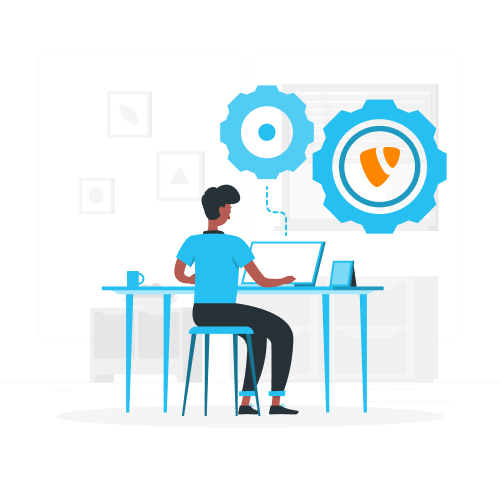 TYPO3 Extension Development
TYPO3 CMS comes with 5000+ inbuilt extensions that could be found in TYPO3 Extension Repository (TER). However, they might not cover all your business needs. We provide professional TYPO3 extension development and adjustment of custom extensions, frontend plugins, and backend modules. If you need to connect third-party software or make some external service or interface integration, then we are the right team for that as well.

TYPO3 Custom Extensions Developed
It can be a challenge to develop TYPO3 extensions since there must be a high level of expertise to build or customize an extension that works stable, looks good, and brings massive profit to the business.
As we've been using TYPO3 CMS since early 2010, many new TYPO3 extensions were developed, used, or customized by our team depending on the particular project purposes. CMS is packed with a massive plugin collection, and most of them should be integrated properly in the client's existing or planned project version. Some of them require additional development and customization to create the necessary set of tools.
Impulsis is a trusted partner when it comes to TYPO3 development services. We cover all types of work related to the CMS, including web development, customization services, migration services, extension development, providing maintenance service, and technical support. Our certified TYPO3 developers have much experience in dealing with projects of different complexity and direction. We work with individual clients, businesses, and enterprises.


How We Do Custom Extensions Development
We plan custom extension development individually according to your needs and can thus optimally respond to the requirements of your site. We follow the latest extensions development trends, standards, and technologies. This approach allows us to get the highest level of productivity available up to date of the future TYPO3 custom extension.
Stable work and a possibility of scalability is another important parameter which is taken into consideration when our TYPO3 developer starts new TYPO3 Extension Development. Impulsis.com offers you high-quality development services with a guaranteed outcome at a defined deadline, as well as further developments according to an iterative procedure.
Advantages of Our Service
We help to make your web project successful by providing you with a solution. We accompany you from the vision to the traffic campaign. Our projects are not mass products. Our approach is robust and flexible. Developing every project we choose a healthy mixture of the planning reliability of a waterfall project and the flexibility and openness of agile methods.
We are open to working with ongoing projects as well as to those from scratch. Our team of certified developers works according to the latest industry practices and creates custom solutions regularly. Deep knowledge of technology and rich expertise guarantees a high quality of code, smooth site performance, and effortless further support. You have an idea and want to implement it on the site, then just let us know, and it will come true soon.
Experience our expertise for your venture!